"I Feel The Fear Every Day" – Cecilia's feature on Capsule
Capsule is the ultimate curated collection of smart stories and relatable rants, brought to you by former editors and writers of New Zealand's best magazines. It is for the savvy, strong, intelligent and stylish woman who wants to know what's happening, what's trending, what's new, and what's worth talking about. Capsule recently did a feature on Cecilia's journey to where she is today.
How many times in your life have you encountered a problem and thought 'surely there's got to be a better way?'.
It's happened to all of us – and not just about stuff you see in those cheesy infomercials that play during The Chase where someone can't figure out how to pour orange juice without spilling it onto the bench, or chop onions without resorting to a ski mask.
But most of us don't do anything about it. But most of us aren't Cecilia Robinson.
You'll know the Kiwi entrepreneur from such businesses as Au Pair Link and My Food Bag – both of which were formed after a lightbulb moment where the businesswoman reckoned she could figure out a better way of doing things.
And it's the same with her new business, virtual healthcare provider Tend – although the reason is far more personal, and heartbreaking, than it's ever been before.
"We had a stillborn baby, after we had our son Thomas in 2014," Cecilia tells Capsule. "And then we lost another at 17 weeks. So going through that journey in the New Zealand healthcare system, well well-intentioned, couldn't answer my questions about what was happening. I was an anomaly and a mystery to people because I was so young."
Sweden-born Cecilia and her husband James, who is also her business partner, ended up asking for help offshore when they needed second opinions, and had several virtual consultations with specialists in Australia via Skype – and Cecilia realised the potential.
"Well, 12 months later, we had [daughter] Leila," she says with a smile. "We had walked away from the virtual consultations thinking, 'Wow, that was easy' – they'd done my medical history and sent me away to get tests that I'd never had done before – and then Leila came along."
What also came along was Tend – an app that lets you see a doctor right from your phone. It's a big change within New Zealand's healthcare sector, nods Cecilia, but says it has been needed for a long time.
"I think it's about 80 per cent of GP practices in New Zealand that are still being run on Windows 7 – and that's been discontinued by Microsoft, which means there's no support. There's a technology gap.
"So with Tend, you can see us in person or digitally – digitally, you book in an appointment with us which is 20 minutes, 10 minutes with a nurse and 10 minutes with a doctor, who will issue you with any referrals or prescriptions you need. After the doctor will send you through an appointment summary and your care plan."
Covid has most definitely helped people become more receptive to the idea of virtual healthcare – although of course, if the docs need to see you face to face, that will happen.
But it's the post-appointment stuff where Cecilia gets excited, pointing to the times where you walk out of the doctor's office and think, 'Shit, I didn't ask that other thing!'.
"You always have a list," she says. "And it's frustrating when you forget! So you're able to message the clinical care team on the app too. We also email prescriptions to pharmacies, and when you're low on your prescription – for example for me, I'm on birth control, and I have a repeat script – it's free. And your history is all there, documented in the app."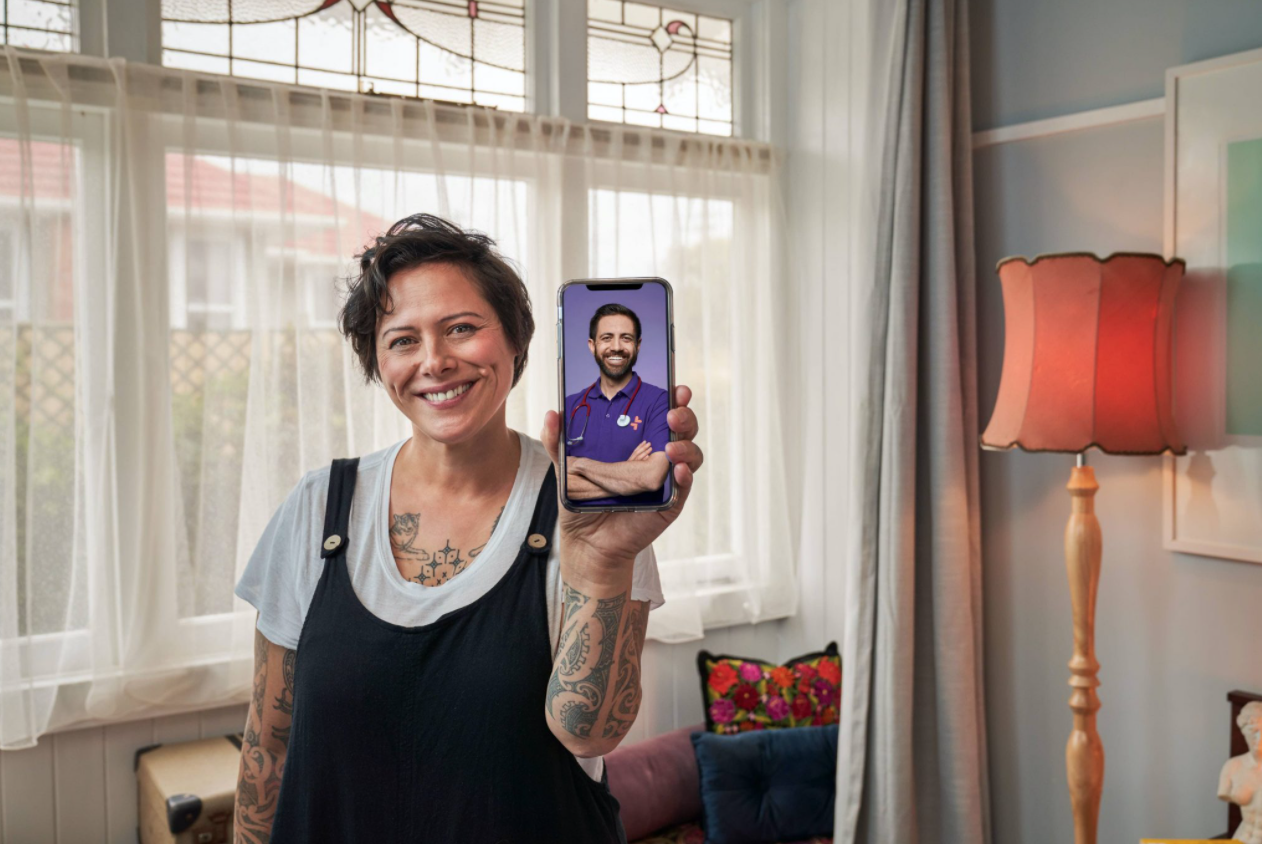 It's an interesting time to be diving into the world of healthcare, Cecilia acknowledges, but business, well – it's something she understands intimately.
"I mean, I still feel fear," she admits. "I get up each day with purpose and I know this is the right thing to do, but I still feel fear. I know we're going to be successful, but we have to work hard every day to make that happen, and we don't take that for granted."
Feeling the fear is important, she reckons – but she says she shares the load with James.
"I share the fears with him, and that's really important – you have to share the journey with your business partners, or someone. I remember there was a headline once that actually annoyed me – "Why Cecilia Robinson is fearless" – and it's not true. I feel the fear everyday."
In fact, despite her incredible track record in business, Cecilia battles with the same stuff every woman does when it comes to business – impostor syndrome included. Although to great relief of wāhine everywhere, she says as she's progressed in her career it's gotten easier to be a woman in business – but she does admit to testing the theory every so often.
"I think there are definitely male and female energies in business, and I think in the early days I definitely had to apply more of my male dominated personality traits to be successful, and yeah, I think women do tend to filter themselves a little bit more, depending on what they're doing."
So, you like to mess with that a little bit?
"Oh, absolutely!" she laughs. "I've turned up to board meetings in formal black clothes with my hair pulled back, and then the next day I'm all in pink channelling Dolly Parton!
"It's just to see how it comes across – and I'm the same woman, at the end of the day it's about expressing yourself and being true to yourself and opening up to people about what drives you.
"There's a huge space within leadership for vulnerability – I mean, you have to be. I was at My Food Bag and I was five months pregnant and someone's cooking salmon at 9am in the morning and you just want to vomit! And then to go through losing the second one, you have to rock up to your team and talk about such a personal loss. If you don't show these vulnerable parts to yourself, it's a huge loss to you and your team."
Success also doesn't come overnight, to paraphrase Rachel Hunter – and Cecilia says it's very ironic, especially if people don't know the journey she and James have been on throughout their businesses.
"Up until Thomas was three, we were still renting," she says. "We had businesses that maybe could be successful, but it takes time. Tom is eight now, and people look at us now and think, 'wow, your life is easy'. But you didn't know me five years ago!"
Sometimes she still can't quite believe where her life has taken her, especially when she remembers growing up on the other side of the world in Sweden.
"Oh, it's very random! My mum went to see a fortune teller when she was pregnant with me, and she told her at the time I would grow up in a different country far far away!
"It's been such a huge privilege and been so great."